The best thing about low carb lunch ideas is that they comply with the keto diet guidelines. Which, by the way, is all about eating high fats, moderate proteins, and low carbs.
Today's article is all about low carb lunch ideas so you can continue to eat scrumptious meals. Moreover, these ideas will help you reduce your weight and gain the many benefits of a low carb diet. So, are you ready to indulge yourself with mouthwatering low carb lunch ideas? You will be all sorted out for lunch now!
Here is a list of low carb lunch ideas that are quick and easy to make and then enjoy.
Salads
Who does not like eating salad at lunch? They are quick to make and are satiating. Therefore, it is a no-brainer low carb lunch idea that will be composed of a salad. Furthermore, they become the ideal option for people who are working and busy with house chores.
1. Egg Salad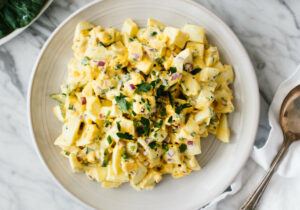 You must know by now eggs contain a very low amount of carbs. Also, two boiled eggs can give you enough energy to be on your feet for the entire day. Hence, eggs as a low carb lunch idea are perfect. However, eggs can be boring to eat. But not when you bring so many variations you start to enjoy eating them.
For this recipe, you need no more than 5 ingredients. For this low carb lunch idea, you need 2 eggs, 3 tbsp. mayonnaise, salt, and pepper as per taste. Lastly, you can add freshly chopped parsley or finely sliced cucumbers to add color and flavor to the recipe.
Now you have all the ingredients let us start preparing it. Take a pan and start boiling the 2 eggs in water. On the other hand, take a bowl and add mayonnaise, salt, pepper, parsley, and cucumbers. Once the eggs are boiled, peel the shells and cube them as per your preference. Now, add the cubed eggs to the mixture of mayonnaise and enjoy. You can add or subtract ingredients as per you're liking. The recipe on its own is very delicious as well. You can also boil eggs the way you like, but we recommend them to be hard-boiled. Since then, they chop perfectly. Moreover, you can garnish with your favorite herbs as well.
2. Avocado And Chicken Salad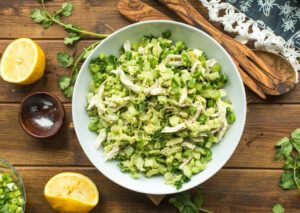 This recipe is for those who prefer a wholesome lunch that includes vegetables and a high protein source. Avocado is a cruciferous vegetable, and you can eat it without a pang of guilt.
For this recipe, you will need 1 medium-sized finely chopped avocado. Moreover, you will need 1 cup of boiled or grilled chicken. Additionally, you will need seasoning and dressing like salt and pepper to taste, 1 tsp of lime juice, 1 tbsp of mayonnaise, and sliced green onions for this recipe. Furthermore, you can add 1/3 cup of cilantro to the recipe if you prefer the taste of it.
In a bowl, add shredded chicken, avocado, mayonnaise, and seasoning. Give it a good stir, and you are ready to eat. This is a scrumptious salad recipe and relatively easy to make.
3. Chicken Caesar Salad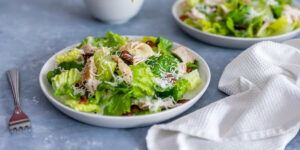 Here is a keto-friendly version of your favorite recipe you can eat for all Caesar salad lovers. Moreover, this of those low carb lunch ideas that is tasty, quick to make, and includes a perfect taste balance.
To make a low carb Caesar salad, you will have to go through three steps. Firstly, make Caesar dressing. For this, you will need a bunch of ingredients, but we are sure you will be able to find most of them in your pantry. To prepare the dressing, you need 1/3 cup of grated Parmesan cheese, 1 tbsp. of mayonnaise and yogurt, 1 tsp. of mustard and Worcestershire sauce, ½ tbsp of olive oil, and 1 garlic clove.
The next step is to prepare croutons. You need 1 1/2 cups of cubed bread. However, do ensure that the bread is keto-friendly or has low carbs. For instance, bread made from almond flour is ideal for consumption. Moreover, you will need 3 tbsp. of olive oil, and salt and pepper for tossing.
Lastly, to prepare chicken, you will need to have 1 small chicken breast with some salt and pepper for seasoning.
Now is the time to prepare all three steps and toss all the things in a bowl. For the dressing, combine all the ingredients except for the Parmesan cheese. Furthermore, for croutons, you have to do the same and mix all the things. Finally, cook the chicken on a grill pan with some virgin olive oil. Once done, cube the chicken and mix all the things and top it with shredded cheese. You feel like adding more greens to your salad, you can add lettuce.
You might feel this recipe is too long, but all it takes is to mix the ingredients, and you are done.
4. Chicken, Cheese, And Veggies Salad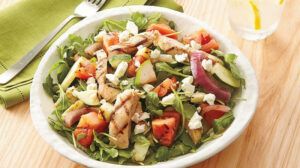 Yes, you read the recipe name right. It is an all-in-one salad, which is another one of the perfect low carb lunch ideas. The concept goes way back to when people preferred consuming salads for lunch. This is also a low carb version but very convenient to make. Don't we all prefer salads for their ease to prepare?
You will need to have half a cup of grilled chicken, 1 cup of lettuce, half tomato (should be diced), 2 tbsp of blue cheese, and 1 tbsp of balsamic vinaigrette, also 1 tbsp of red onion (minced).
To put the recipe together, you need a bowl and place the lettuce, add grilled chicken. You can also use leftover chicken as it is perfectly seasoned and most importantly cooked and can be used readily. Then, add the balsamic vinaigrette sauce, and mix until chicken and lettuce are coated well. After this, add cubed tomatoes and red onion. As a final step, top the salad with grated blue cheese, bringing a healthy and delicious taste to the salad.
There you have a quick to make, yet delicious salad to eat.
Full Course Meal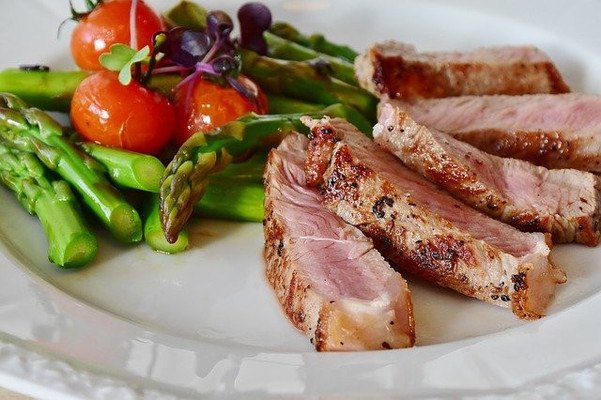 If you are not a salad person and want something more fulfilling, the following 3 recipes can be of interest. They are one of the perfect low carb lunch ideas, and you do not need to worry about the carbs again.
1. Zucchini Noodles With Shrimps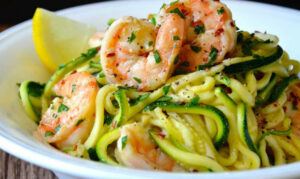 Doesn't that sound like an interesting combination? Well, once you try it, you will not stop making it as one of the low carb lunch ideas. For this recipe, you will need several key ingredients, which are 2-3 medium-sized Zucchinis, and 1 cup of shrimps. Furthermore, you will need ingredients like salt, pepper, and red chili flakes as per taste. You will also require half a lemon (zested), 4 tbsp of olive oil, 1 chopped garlic, coarsely chopped shallot, and 1 cup of fresh basil (thinly sliced). You can also add half a tsp. of red vinegar. To bring more variation to your zucchini noodles with shrimps, you can add nuts like a handful of roasted almonds and or cashew nuts.
The process includes blending olive oil, vinegar, half of the almonds, garlic, shallot, chili flakes, lemon zest, and basil. Then, blend it until the mixture is smooth. Once done, set aside as your noodle dressing is ready. Subsequently, take a pan and add olive oil and sauté shrimps until cooked with a golden color.
Lastly, run the zucchini through the spiralizer so noodles are created. Now, stir-fry the noodles to give make them crispy and tender. Once all the steps are done, make sure to combine the zucchini noodles, grilled shrimps, and dressing together and toss until everything is covered. Top the lunch with salt and pepper and leftover nuts.
You have a satiating lunch ready for you, not only low in carbs but is also a healthy option. Shrimps are a versatile food option to add to your daily low carb lunch ideas.
2. Baked Salmon With Ginger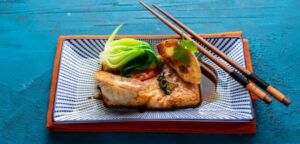 It is impossible not to talk about salmon when a low carb diet is being discussed. Salmon fits well with the keto guidelines. Additionally, it is very low in carbs, but its high protein level keeps you full for a long time. This recipe can be perfect for when you have a long and tiresome day ahead of you.
This recipe requires 2 fillets of s, half red onion, and half lemon. After this, you need 1 tsp. of sesame oil, 1 tbsp. of soy sauce, half a tsp. of garlic powder, 1 tbsp of honey, and a pinch of red chili flakes. To give a strong ginger taste, add half a tbsp of grated ginger too.
Make sure to cut the vegetables such as zucchini and onion thinly and lengthwise. Also, you can add sesame seed on the top if you prefer.
For assembling, you need to prepare the sauce first. For that, take a bowl and add all the ingredients except salmon, zucchini, and red onion. Following, give the mixture a thorough stir so everything is well combined. On the other hand, take a tray and place parchment paper on it. Next, put a piece of salmon fillet on top of it with the soy mixture prepared previously. Place the zucchini and the onions on one side and season them with the soy mixture to add flavor to the veggies.
Alongside, preheat the oven to 350°F. Place the tray inside the oven and bake the salmon for 16-20 minutes. Once done, take it out and serve hot. You will enjoy this recipe. Moreover, it can be perfect for the guests as well. This recipe is another one of those perfect low carb lunch ideas.
3. Broccoli Casserole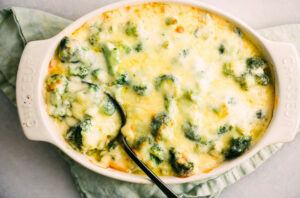 This casserole is everyone's favorite. Broccoli casserole is something unique and a low carb meal for food lovers. The best part about this recipe is it takes no more than 7 ingredients to create a mouthwatering recipe for your low carb lunch.
You need 1 and a half-packets (10 ounces) of frozen broccoli, half tin of condensed cream of mushroom soup, half cup of mayonnaise, 1 small egg, and 4 oz cheddar cheese, 1 small-sized finely chopped onion. For taste, you need to have salt, pepper, and a pinch of paprika.
To prepare the broccoli casserole, you need to preheat the oven to 175-degree C. Defrost the frozen broccoli and add to the bowl. In a separate bowl, combine the mushroom soup with mayonnaise and egg. Now, transfer the broccoli to a dish that fits well in the oven. Furthermore, add the soup mixture on top of the broccoli. Lastly, add cheese and mix well everything. Bake for 50 minutes, and there you have your broccoli casserole- a healthy recipe ready to eat.
Lunch Snack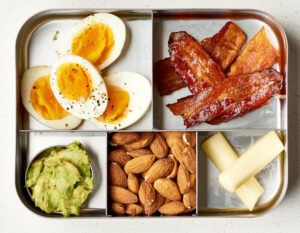 Sometimes when you are not too hungry but still feel like eating something, this recipe can be perfect. It is not too heavy and is healthy. Also, it is very quick to make. So, what else do you need?
Chicken Lettuce Wraps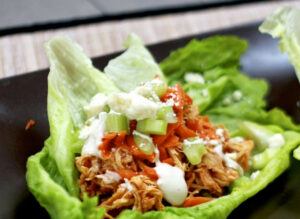 For the next one of the low carb lunch ideas, you need 1 cup of grilled or roasted chicken. You can also go for leftover steak chicken. Secondly, you need ¼ cup Asian-style dressing, ½ cup yogurt, cube-cut carrots, a handful of water chestnuts, and 1 head of lettuce.
To put everything together, take a lettuce leaf, place some chicken in it, and pour the dressing over it. That is it, and you have a tasty lunch ready fast.
Moreover, the best part about these lettuce wraps is you can add various things to them not just chicken. It is pantry-friendly. Hence, whatever is available, can be added. You can add more roasted nuts to enhance the flavor of the wraps. Furthermore, it will increase the nutritional value of the wraps too.
Conclusion
All the listed recipes above show your low carb diet can be interesting, too, with tons of food options. In addition, you can add or subtract whatever you like as per your preference. Not to forget, we have catered to all types of lunch recipe examples. So, if you are someone who prefers to eat salads, or a snack, or a fully prepared meal, we have you covered.
How helpful did you find these low carb lunch ideas? Remember to share your thoughts with it!