Are you being told that the keto diet is all about bland recipes and restraining yourself from tempting food? Then you have been misinformed. We are here to end that notion and help you with some delicious keto recipes with ground beef.  So, are you ready?  You might as well grab a pen and paper and write these recipes down.
Nutritional Facts about Ground Beef
Before we dive into keto recipes with ground beef, let's talk about some facts. The ketogenic diet is all about restraining carbohydrates, consuming moderate protein, and majorly relying on fats. So does ground beef fit well with these requirements? Of course, it does.
As per U.S.D.A., 85g of cooked ground beef has a total of 218 calories, and the breakdown is as follows:
Fats: 13g
Fiber: 0g
Protein: 24g
Carbohydrates: 0g
Sodium: 76mg
Sugar: 0g
The best part about ground beef is that it has 0g carbs, and that is why it is one of the most suitable food intake options while being on a keto diet. Moreover, it possesses a high amount of fiber that keeps you satiated all day long.
Health Benefits That Come Along With the Consumption of Ground Beef
We are talking about keto recipes with ground beef because the health advantages cannot be neglected. Some are as follows:
It Helps Boost The Immune System
Your body requires all types of vitamins, including vitamin B. Ground beef contains all kinds of vitamin B in addition to zinc. Both of these things are necessary for the nutritional fulfillment of the body. Hence, it is appreciated to consume ground beef while following a keto diet.
      2. Aids In The building Of Cells
Ground beef is a good protein source that allows the building of tissue, bones, and muscles in your body
      3. Source Of Iron
It helps in dealing with a lot of low-iron related issues.
Keto Recipes With Ground Beef For Lunch
Now that we have discovered that the keto diet can be healthy yet delicious simultaneously let's uncover some secret recipes, you can try out to make your lunchtime more flavorful. Here are scrumptious keto recipes with ground beef for lunch.
1. Ground Beef Cheesesteak Casserole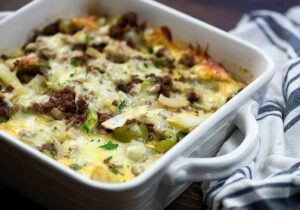 Have you always found cheesesteak casserole tasty in a restaurant menu but cannot consume it since you are on a diet? Well, you can easily make a keto version of it at home in no more than 40 minutes. Isn't that cool? The recipe takes a total of 8 main ingredients that are readily available in your pantry.
You need half kg ground beef, diced chopped bell pepper, and an onion, 250g of chopped mushrooms, 4 tbsp of heavy cream, 1 cup of cheddar cheese, 4-eggs, and 2-3 finely chopped garlic cloves. Furthermore, you require paprika powder, dried thyme, and dried basil; 2 tsp for species each. With that, you will need 1 tsp of chili powder and salt as per taste.
To make this, you will need to sauté all the vegetables together, cook the ground beef separately with the spices, and add both of these into the casserole dish. In another bowl, mix the cream with the cheese and pour that on the mixture in the casserole dish. Add grated cheese on the top and bake the cheesesteak casserole in the oven for 25 minutes until cheese is nicely golden and melted.
There you have a fulfilling keto recipe with ground beef for lunch that will keep you satiated for a long.
2. Korean Beef Bowl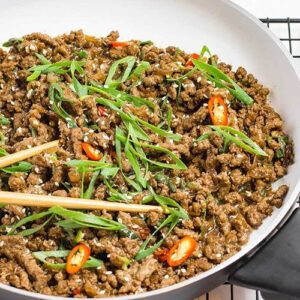 We have heard about the Chinese noodle bowl recipes a lot, but what is this Korean beef bowl? This is yet another instant pot keto recipe with ground beef. Furthermore, it's perfect for lunch as you crave something that will keep you full of energy all day long. If you are starving but don't have much time in hand, then this keto recipe with ground beef is for you. It doesn't take longer than 30 minutes, and you will be done eating.
For this easy keto recipe with ground beef, you will require 1-chopped small-sized shallot, 1 pound of ground beef, some freshly grated ginger, 2 cups of cauliflower rice, 3 cups of greens (you can choose as per your liking), 1 tbsp of fish sauce, ½ tbsp of sesame oil, 4 tbsp of coconut aminos, a pinch of salt, and half tsp of garlic powder, onion powder, and red pepper flakes.
In a large pan, add sesame oil and cook ground beef, add shallot, ginger, and other spices. Next, add coconut aminos and fish sauce. Mix it well until everything is combined. Dish it in a bowl, and it is ready for you to eat in no time. You can add additional sauce over it for extra flavor, which is very simple; all you have to do is mix 2 tbsp of mayonnaise with 1 tbsp of hot sauce and pour it over your Korean beef bowl.
3. Ground Beef Shepherd Pie
The idea of shepherd pie itself is very delicious. It has a base of meat with the topping of potatoes, but since we are making a ketogenic version, we will replace the potatoes with cauliflower. You thought that you might never have shepherd pie ever? This is the best version of it for you.
Firstly, you would require a skillet to prepare the pie's base, the ground beef. Take a pan, add ½ pound lean beef to it and cook it until half browned. Then add ½ cup of chopped onions, ½ cup of carrots, and 1-finely chopped garlic clove to it. Stir them until the vegetables are tender. Next, add ½ tin of diced tomatoes (you can add fresh if you want to), and mix until incorporated well.
For the top, use 1-pack of mashed frozen cauliflower and warm it, eliminate the excess water and mix it with ½ cup of Parmesan cheese. Set it aside. Meanwhile, preheat the oven to 500 F.
In another bowl, take 6 tbsp of broth mixed with ½ tbsp of cornstarch. Pour the mixture into the beef and vegetable mixture, add 1 cup of English peas, 1 tsp of Worcestershire sauce. Then, add salt, pepper, and paprika powder according to your taste and cook everything together. Lastly, add the cauliflower mixture above and top it with leftover ¼ cup of Parmesan cheese and. Voila! Your keto version shepherd pie is ready!
Keto Recipes with Ground Beef for Snacks
If you are looking to make healthy and easy keto recipes with ground beef, then the following dishes are for you. They can be prepared in no time and fit well with the keto guidelines while providing you with delectable options for your snack cravings. So, let's discover more about them.
1. Ground Beef Taco Skillet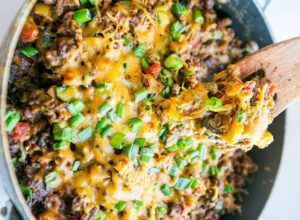 This ground beef taco skillet is an easy, quick, and delicious snack to consume while on keto. You will require 1-tablespoon of avocado oil. Then the star of our snack, 1 pound of ground beef, half a cup of diced white onion, and a half cup of bell pepper chopped. Then add green chilies according to your preference, whereas 14oz is preferable, 3-spoons of taco seasoning, and 2-seeded Roma tomatoes diced. You will also need 12 ounces of cauliflower rice. Lastly, Mexican blend cheese, one cup or as you like because who doesn't love extra cheese, right? Start heating the avocado oil, then add ground beef and stir until brown. Next, add diced onions and bell pepper and stir until they are soft. Add the green chili, tomatoes, and cauliflower rice until no moisture is left. Finally, add cheese on top and cover till the cheese melts. You can add various toppings like sour cream, avocados, and thinly sliced jalapeños.
2. Flaming Hot Lettuce Wraps
Flaming hot lettuce wraps are the right way to go if you want to eat something different and delicious for a snack on a ketogenic diet. Only 1-pound of ground beef is needed and a quarter cup of hoisin sauce. Then, 2-tablespoons of soy sauce and vegetable oil, 1-tablespoon of grated ginger followed by finely chopped spring onions. Two garlic cloves and two teaspoons of red pepper flakes. Peanuts roughly chopped and thinly sliced red chili along with chopped parsley.
At last, salt and pepper according to your taste. After cooking everything together, all you need to do is assemble your wraps, which is the easiest part because all you need to do is add the cooked beef in the lettuce leaves. Moreover, you can garnish it with parsley and red chili, and you have a delicious meal ready.
3. Beef Stuffed Peppers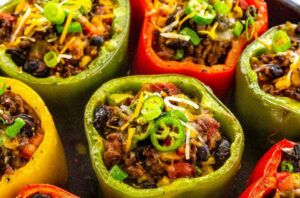 Beef stuffed peppers are a classic snack, and making it with ground beef can help you stay on track for your keto diet. Start with pouring one and a half cups of marinara sauce on a skillet. Then cut off the top and discard the inside seeds of six bell peppers. Then mix 1 pound and 4 ounces of ground beef with 1-minced onion, two diced garlic cloves, ¾ cup of rice, a teaspoon of paprika, half teaspoon of ground mustard, and dried oregano. Finally, add salt and freshly ground black pepper according to your taste and add the mixture in the peppers and top that off with shredded cheese. After baking for 25 to 30 minutes, the peppers will be soft, and the ground beef will be cooked, and your snack is ready.
Keto Recipe with Ground Beef for Dinner
Let's keep it delicious and tempting for dinners, something that we would typically consume in a dinner like burgers or soup, maybe?
1. Bite-Sized Burgers
You need 1-diced avocado, juice of a lime, half red onion, and one minced garlic clove to make bite-sized burgers. Alongside, a diced tomato all in one bowl and mix until coarsely smooth and season it all with salt and pepper. Set this mixture aside in another bowl, add 1 pound of ground beef, one egg white, one and a half spoon of Worcestershire sauce, and salt and pepper. Mix all of this and make 12 balls and wrap them around a piece of bacon. Let these balls cook on a large pan with medium heat until the bacon is crispy and the meatballs are nicely cooked through. In the end, assemble your burger any way you want. You can add lettuce after your guacamole and a slice of tomato and cheese.
2. Ground Beef Hamburger Soup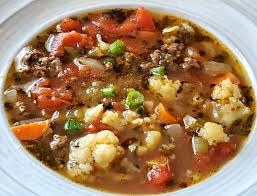 This is one delicious soup recipe you have been wanting. It's loaded with ground beef and vegetables in a savory broth.
For this, you will require 2 tsp of olive oil, half a cup of sliced onions, 1-thinly sliced celery stalk, 1-peeled and sliced carrot, ½ pound ground beef, 1 tsp of garlic paste, 8 oz. of diced tomatoes, and 4 oz. of tomato paste. Moreover, you will require 3 cups of broth, ¼ cup of corns, and some Italian seasoning like dried thyme, dried oregano, and garlic powder. And lastly, you will need one cauliflower.
To make the soup, first, you have to sauté all the vegetables except tomatoes in olive oil. Then add ground beef and cook until it is half done. Next, add all the seasoning and spices, beef broth, and finely dice chopped cauliflower. Moreover, mix tomatoes and the tomato sauce as well. Lastly, add corns to the soup. Let it cook for a while and bring it to a boil. Before serving, make sure to check the salt and pepper and adjust accordingly.
There you have hamburger soup with ground beef for dinner. Wasn't it the easiest of all? Not to forget, cauliflower is the best alternative for potatoes and, hence, you can always replace potatoes with cauliflower.
Bottom Line
These easy keto recipes with ground beef take no more than an hour to prepare. These recipes are finger-licking, quick to make, and above all, fit well with your ketogenic diet requirements. What else do you need? Now you can also enjoy a healthier version of your favorite food recipes despite getting ashamed for not following the keto pattern. Here is to healthy cooking and living.
How did these Keto Recipes With Ground Beef work out for you? If you haven't, try them right now, and do let us know what you think in the comments section below!