You are getting ready for work, and you are late, so what would do you do for breakfast? Has this ever happened to you?  Most people pick up food from a café to go and end up choosing an unhealthy option. Your diet can be disturbed just by this one meal. It also happens when you come home after a long day, and you do not feel like getting up and making your meal. In such cases, you end up cheating and eating something unhealthy because you believe it is easier. Below I discuss some keto meal prep ideas.
You can avoid this if you prepare half of your meal beforehand. Meal prep is an excellent idea regardless if you are dieting or not. Here I will be discussing a few keto meal prep ideas and how you can store them. So if you are interested in meal prep and you are on a keto diet, then you have come to the right place.
How Does Keto Diet Help You?
The keto diet is mainly the low carb diet, which is altogether based on fat consumption. You intake mostly fat for your meals, and these fats become the primary source of your energy production. When your metabolic processes are made to use fat as the primary energy source, it will ultimately help you lose excess fat. The process is called ketosis.
What Is Meal Prep?
Most people have heard the term meal prep. Some people also call it batch cooking. It is you cook some meals ahead of the time they are consumed. If you are free on the weekend or any other day of the week, you can make a larger batch than a single serving size so you can eat it during the week to come. Meal prepping is not that you prepare the entire meal.
In some cases, you can do that and then heat the food when desired. But meal prepping is also that you semi-cook something and then sauté or thoroughly cook it afterward. Either way, it helps you save time and eat healthily.
Best Keto Meal Prep Ideas For Breakfast
So without further ado, let us move onto keto meal prep ideas for breakfast. I am sure that these meal prep ideas will help you. Simply follow these, and you will be able to make your breakfast in five minutes, and you will not have to eat those full of carbs bagels on the go.
When meal prepping, store them so as not to take you so much time preparing them. If you are preparing an omelet mixture, put each day's mixture separately in the fridge.
1. Pancakes
You cannot eat flour because it has many carbs, but you can go for bananas instead to make pancakes. Unripe bananas have fewer carbs. Take1 medium unripe banana mashed, 2 eggs, 1 tsp ground cinnamon, 1 tsp baking powder, ¼ tsp salt, ½ tsp vanilla extract, 1 tbsp butter or ghee for frying, and 1 oz of fresh blueberries or frozen. Prepare as much as you want. After you mash up the bananas and mix all the ingredients, put them in a jar or an airtight container in the fridge. This batter can be used so you can make pancakes anytime and top them with blueberries.
2. Salmon And Asparagus Frittata
If you are going for a fancy breakfast, then this is a good choice. You can put it in the oven after preheating it. It will bake on its own. The ingredients required are 8 eggs, 1 cup heavy whipping cream, 1 tsp salt, ½ tsp pepper, 1 tsp dried dill, 1 cup (4 oz.) shredded mozzarella cheese, ½ cup (11⁄3 oz.) shredded Parmesan cheese, ½ oz butter, 3½ oz. salmon and 3½ oz. fresh green asparagus. You can prepare the cheese and egg batter with all the ingredients and then add dry salmon to it and let it bake. You can eat for almost 4 days.
3. Keto Pizza Omelet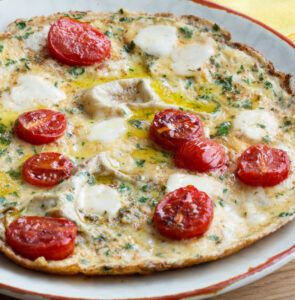 This pizza omelet takes just 10 minutes to bake, and it is the perfect breakfast you can have. The thing to prepare beforehand is the batter. In the batter, add 4 eggs, 1¼ cups (5 oz.) shredded mozzarella cheese, 2 oz. Cream cheese, ¼ tsp salt, and 1 tsp garlic powder. Prepare it and refrigerate it. Add per serving size and top it with some cheese shreds, tomato sauce, and dried oregano. Now put it in the oven to bake. You have got a perfect breakfast.
4. Breakfast Casserole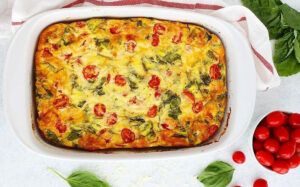 This vegetable casserole can be stored for a week in the fridge, and you can eat it throughout the week, so it is good option. The ingredients required are ½ (1½ oz.) leek, 2 oz. Green olives, 12 eggs, 1 cup heavy cream, 1¾ cups (7 oz.) mozzarella cheese shredded, 1 tsp onion powder, 3 oz. Cherry tomatoes, ¼ cup (2⁄3 oz.) shredded Parmesan cheese, salt, and pepper. Add all of these and bake for 40 minutes in the oven at 400 degrees Fahrenheit. Now you do not have to bug about your breakfast for the whole week.
Best Keto Meal Prep Ideas For Lunch And Dinner
Dinner and lunch are the meals when you want fully cooked food. When coming home from a long day, you feel tired from work; you can meal prep your lunch and dinner. If someday you are cooking, you can cook thrice or twice the amount, and it will take the same time to cook.
1. Chicken And Mushroom Casserole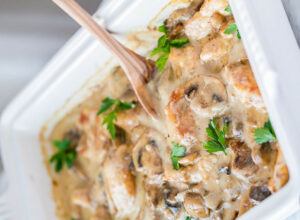 The casserole is the best option when meal prepping because you can bake a lot of it at one time. This chicken and mushroom casserole is very easy to make. Here you have first to sauté the vegetables and mushrooms and then add them to the baking dish. It also takes 40 minutes to bake.
The ingredients for it are 3 tbsp olive oil divided, 1¼ lbs boneless chicken thighs, 2 tsp garlic powder divided, 1 tsp onion powder, ½ tsp salt, ¼ tsp pepper, 5 oz. mushrooms, sliced, 2 oz. (2 cups) fresh spinach, 10 oz fresh cauliflower rice, 2 cups (8 oz.) shredded mozzarella cheese, 1 tbsp olive oil, for greasing, salt, and pepper to taste.
2. Pumpkin Soup
Pumpkin is fairly low carb, and it gives a tinge of sweetness and salty to the soup. First, you have to sauté the onions and scallions in a pot. Now boil and blend the pumpkin and add it with the other ingredients, spices, and water to cook and thicken. There you got your soup. You can store it in the fridge and heat it whenever you want to eat it. It contains 2 tbsp butter, 1 (4 oz.) white onion chopped, 4 oz. (1¼ cups) scallions chopped, 30 oz. pumpkins cubed, 6 cups water, 2½ tsp salt, ½ cup heavy whipping cream, 1 tsp fresh ginger, grated, 2 tbsp orange zest, and 2 tsp fresh cilantro, chopped.
3. Chicken Garam Masala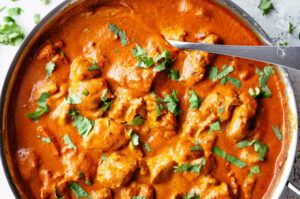 There are days when you are craving something spicy, and this is the best thing you can eat. It takes you just thirty minutes to cook, and you will be surprised how something so delicious can be so simple to make. The ingredients for it are 1½ lbs boneless chicken thighs sliced, 1 (5 oz.) red bell pepper thinly sliced, 3 tbsp coconut oil, 2½ tbsp gram masala seasoning, 2 tsp turmeric, 2 garlic cloves finely chopped, 1 tsp salt, 1¼ cups coconut cream or heavy whipping cream and 3 tbsp fresh cilantro.
At first, heat the oil in a pan and add all the spices, bell peppers, and garlic. Now add the chicken with coconut cream. If you are freezing it, then it is better to add coconut milk instead. Now let it simmer on low heat for ten minutes, and it is ready to eat.
4. Pizza Chaffles
They are one of the best things you can eat when on a keto diet, and I am sure they will give you the closest pizza experience. You can prepare them, and then they can be frozen for up to 4 days and reheated whenever you feel like eating them.
You can make these pizza chaffless in your waffle iron. 4 eggs, 2 cups (8 oz.) shredded cheddar cheese, ½ tsp Italian seasoning, and 1 oz. Parmesan cheese grated is what you need for the chaffless, and top it with pepperoni slices, cheese, and tomato sauce. It will take 10 minutes for you to make, and you can make as much you want.
Keto Meal Prep Ideas For Desserts
Most desserts do not require much cooking. When you are short on time, frozen desserts are the best. Some of the best-frozen desserts are ice creams, fat bombs and truffles, crackers and bars, and frozen berries. Here I will discuss two essential dessert recipes you can prepare in large batches.
1. No-Bake Chocolate Cake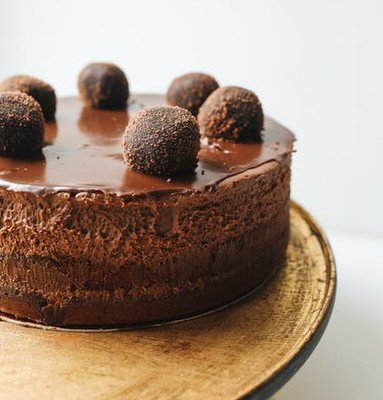 Cakes are a big no-no when you are on a keto diet, but here I have the perfect no-bake chocolate cake recipe for you, which I think is by far the best one out of all keto meal prep ideas. It requires 1¼ cups heavy whipping cream or coconut cream, 3 tbsp erythritol, 7 oz. Sugar-free dark chocolate stevia-sweetened, 3½ oz. butter 1 pinch sea salt, 7 oz. hazelnuts and 3½ oz. (¾ cup) pumpkin seeds.
First heat, the cream and mix it with salt, sweetener, dark chocolate, and butter until well combined. Now spread it in a tray and sprinkle roasted nuts and seeds over it. Freeze it and cut it into appropriate serving sizes. You can have this frozen cake and even refrigerate it however you like it.
2. Keto Cookie Dough Bites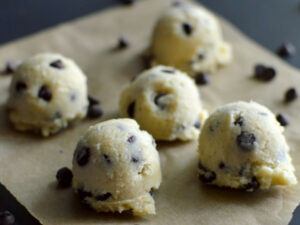 If you have a sweet tooth, you might miss those cookies and cookie dough bites. Here I have the perfect keto-friendly cookie dough recipe for you. Combine 1⁄3 cup coconut cream, 1 tsp vanilla extract, ¼ tsp salt, 2 tbsp almond butter, 10 drops liquid sweetener (Stevia), and 2 tbsp cocoa nibs well in a bowl. Now scoop out and make small balls of it. Refrigerate them for 30 minutes, and they are ready to eat. You can eat them throughout the week.
How To Prepare Foods For Freezing?
When you are freezing foods, make sure they are in an airtight container because if they are kept open, molds can attack the food. The best things to freeze are cooked meat, chopped veggies, prepared batter, herbs, broth, shredded cheese, and any flavored butter.
Which Foods Not To Freeze
There are things you should not freeze. The vegetables which release water make the meal mushy when defrosted. So do not freeze them. Also, for the meals with cream in them, add milk to freeze them because the cream curds and becomes citrusy in taste when heated after freezing.
4 Benefits Of Meal Prepping
Now I have listed many keto meal prep ideas let me tell you a few benefits of meal prepping.
Meal prepping saves you a lot of time because it takes the same time to cook less or more meals, so it is better to make more and save time for the next time.
Meal prep keeps you on track, and you have the idea of which ingredients are keto-friendly when you are consciously preparing the meal and not in a hurry.
You might not think this obvious, but it saves you money when you cook in larger batches. Once you start it, you will see.
Lastly, you tend to waste less food because when you cook in larger batches, you can equally divide them into serving sizes, perfect for you to eat.
Conclusion
I have been going with meal prep for a year now, and I assure you it saved me much time and kept me on track. My diet and my routine are a lot better than before. Try these keto meal prep ideas, and you will see how much it helps you. You can even experiment on your own. If you do not want to prepare the entire meal, you can put all the ingredients in place and then cook it when you want to it. It will also save you a lot of time.
In the comments section below, let me know your favorite keto diet recipe among these keto meal prep ideas. If you have any of your own, do share it!